Singing Through the Hard Times -
A Tribute to Utah Phillips
(Righteous Babe Records RBR065-2-CD)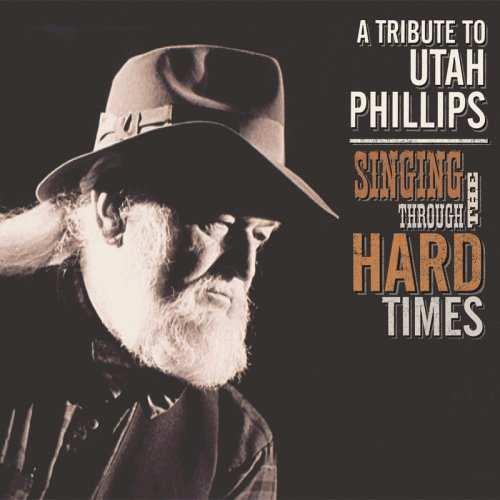 In February of 2007, when Utah Phillips was critically ill, Dan Schatz began talking with Kendall and Jacqui Morse about a CD to celebrate his music. Within weeks dozens joined in, and the project became a two disc memorial, featuring some of the most well known folk musicians in the world, as well as lesser known artists whose music springs from the same rich vein of people's history that Utah explored his whole life. In addition to Dan, Kendall and Jacqui, musicians include Pete Seeger, Emmylou Harris and Mary Black, Rosalie Sorrels, Tom Paxton, Jean Ritchie, John McCutcheon, Magpie, Ani DiFranco, Gordon Bok, Emma's Revolution and many others. Of the 39 songs on the compilation, 29 are brand new recordings, and several of the others are rare or unavailable elsewhere.

CDs can be purchased for $15.98 directly from Righteous Babe Records (this is ideal, since more of the benefit goes to support Utah's family) or through local record stores.


Track list:

1. Magpie, Dan Schatz, Emma's Revolution, Cathy Fink, Marcy Marxer and Friends - Singing through the Hard Times
2. Will Brown, Cindy Kallet and Grey Larsen - Going Away
3. Emmylou Harris and Mary Black - Green Rolling Hills of West Virginia
4. Si Kahn - Dump the Bosses Off Your Back
5. John McCutcheon - All Used Up
6. Saul Broudy - Starlight on the Rails
7. Lisa Null - All About Preachers
8. Harry Tuft and Jack Stanesco - She'll Never Be Mine
9. Larry Penn - The Popular Wobbly
10. Cathy Fink and Marcy Marxer - Room for the Poor
11. Sparky and Rhonda Rucker - Reuben's Train
12. Fast Rattler - Paddy Welcome Back
13. Magpie - Michael
14. Ed Trickett - The Telling Takes Me Home
15. Kendall Morse - Phoebe Snow
16. Faith Petric - If I Could Be the Rain
17. Dan Schatz - Queen of the Rails
18. Judy Cook - Kid's Liberation
19: Pete Seeger - Or Else! (One-a These Days)

Disc 2:

1. Gordon Bok - Goodnight Loving Trail
2. Rosalie Sorrels - The Soldier's Return
3. Tom Paxton - I Remember Loving You
4. Elizabeth LaPrelle - Jesse's Corrido
5. Bruce Brackney - Hood River, Roll On
6. Pop and Bodie Wagner and Dakota Dave Hull - Old Buddy, Goodnight
7. Mick Lane - Hallelujah I'm a Bum
8. Ani DiFranco - The Internationale - instrumental
9. Kat Logan - The Faded Roses of December
10. Jay Peterson - Daddy, What's a Train?
11. Ray Bierl - Bill McCarran
12. Finest Kind - He Comes Like Rain
13. Mark Ross - Look for Me in Butte
14. Jacqui Morse - The Miner's Lullaby
15. Rik Palieri - Larimer Street
16. Jean Ritchie - Old George's Square
17. Taylor Whiteside - Rock Salt and Nails
18. Art Thieme - The Hobo's Last Ride
19. Caroline Paton - Singing in the Country
20. Emma's Revolution - Hymn Song